IDEMS is first and foremost a social enterprise. It is conceived to complete a sustainable trio in partnership with the NGO, African Maths Initiative (AMI), and the Charity, Supporting African Maths Initiatives (SAMI). The intention is to create a sustainable virtuous cycle of collaboration whereby the excess profits are donated as a mixture of restricted and unrestricted funds to SAMI. These funds enable SAMI to support impactful activities in AMI and elsewhere. The AMI activities build the capacity of local partners and interns who can contribute to IDEMS contract.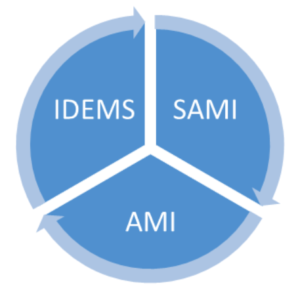 IDEMS is designed to deliver a variety of services and tailored products of two major types:
Based on our expertise.
Based on our social mission.
Overlap of these types is inevitable and desirable but the distinction is important for budgeting purposes. Purely expertise based work will be charged at commercial rates, profits from this work will feed back into IDEMS expansion and social missions through a commercial contract contribution (CCC). Work which relates strongly to IDEMS social mission can be charged below commercial rates, these rates can include a percentage discount for each of the applicable components of the social mission, Development, Education and Mathematical Sciences, such contracts willu00a0 make reduced or even no CCC depending on the level of discount.